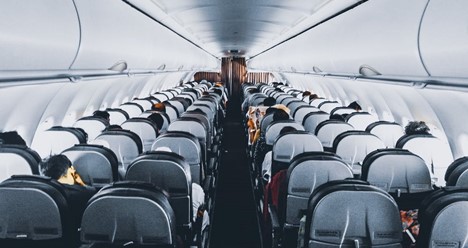 The novel COVID-19 global pandemic has introduced unimaginable challenges for airlines and  forced them to drastically change their operations, from implementing new cleaning and screening protocols to restricting the number of passengers onboard. With the significant drop in passenger travel, airlines have resorted to downsizing to stay afloat, resulting in organizational restructuring. Change is inevitably accompanied by risk, but the pandemic has presented an overwhelming number of risks, which is compounded by the reduction in resources. With more issues to address and fewer resources, it is prudent for airlines to optimize their Safety Management System (SMS) to stabilize their operations and ensure safety during these unprecedented times.
Due to the COVID-19 pandemic, airlines need to create new reporting templates or modify existing ones to capture COVID-19 hazards, such as flight crew fatigue due to increased screening protocols, passengers without a mask, suspected cases of COVID-19, and other related risks. Airlines need to examine their tools and systems to ensure that they have an optimum platform that allows them to capture these new risks. The SMS software should be flexible to adapt to the airline's workflow and business processes, as well as accommodate evolving needs. The software should be configurable to support the creation and modification of templates, taxonomy, and risk matrices. It is integral that the SMS platform is user friendly to allow staff with varying levels of technical comfort to easily submit safety reports. An intuitive system that can be navigated with minimal training is also beneficial for external stakeholders, such as analysts and auditors, to use the system. With staff performing various tasks, the SMS software should support multiple users at once, be accessible across all devices and browsers, and accommodate functionality in a mobile and offline capacity to enable staff to perform their duties efficiently.
Airlines can also utilize their SMS to ensure that no safety and regulatory responsibilities were overlooked by conducting Safety Risk Assessments (SRAs) and implementing mitigation strategies. The SMS platform should provide seamless interconnectivity and transfer of data. The data needs to be linked for easy reference from the initial safety report to the corrective action and all the audits, investigations, and SRAs in between. The SMS platform should not simply capture data, but also retrieve meaningful insights, such as the ability to delineate most common root causes. Since airlines currently have limited staff and resources, this functionality relieves staff of this responsibility, making them available to tend to more critical matters.
SMS is the backbone of airline operations, so it is of paramount importance that it is continuously improved to ensure safety at all times. An optimized SMS platform will equip airlines with all the necessary tools to identify and mitigate any risks during regular operations, the COVID-19 global pandemic, and any unforeseeable circumstance that may arise in the future.